Recently, we were invited to be guests on the fantastic podcast "A Year On Tour With Vittinghus". This podcast is hosted by Hans-Kristian Vittinghus, a professional men's singles badminton player from Denmark with a career high world ranking of 8. 
His podcast covers a variety of badminton topics – speaking about his own 'life on tour' or with guests who are all heavily involved in the badminton world.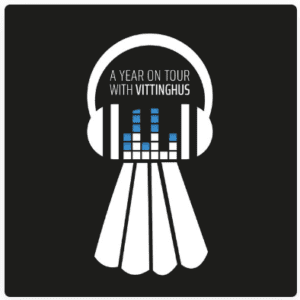 We had a great discussion with Vittinghus talking about our background and our time studying at Loughborough University alongside training full-time. This is a very interesting topic however we're not quite sure we covered everything we would have liked to discuss in it. We were a little nervous at the start and also thrown off by a few early questions! We have so much advice for anybody looking to balance their playing career alongside studying! We will be sure to do a blog post reflecting on this in the future. 
After this discussion we moved on to discuss all things Badminton Insight, including why we started this venture and what our plans for the future are. 
We finished off the 45 minute chat with some 'listener questions', which we were all very interesting! 
We had a great chat when the recording stopped, probably for longer than the podcast itself! We had a lot in common around setting up our Podcast / YouTube channels.  He even agreed to feature on our channel to do a tutorial of his famous through the legs trickshot against Lee Chong Wei which we've included a video of below! 
You may also be interested that he said that once we reach 100,000 YouTube subscribers he will get us back on the podcast! And whilst we're on the topic of reaching 100,000 subscribers, Greg recently replied to a YouTube comment asking if we are married by saying that we will get married when we hit 100,000 subscribers – so that is going to be a big day!!