Virtual Coaching
Virtual Coaching – Gain a different insight into YOUR badminton!
Please see below for all necessary information, how it works and an example of the feedback you will receive.
£60.00
Virtual Coaching – Gain a different insight into YOUR badminton! 
Do any of the following apply to you? 
I can't find a good coach

I live so far away from a good coach, which costs too much money to travel and takes up too much time

I'm not sure if my coach is teaching me the right things

I want to know how I can take my game to the next level

I wonder what professional players would say about my game…?
Not to worry! With our revolutionary online badminton coaching offer, we will help you improve YOUR game.
What Is Our Virtual Coaching?
It is online badminton coaching allowing you to gain a different insight into your badminton. All you have to do is send us a video of yourself playing and you will receive individualised feedback which includes:
Technical feedback
Tactical feedback
Physical feedback
Mental feedback
Routines and resources to improve these identified areas and reach that next level!             

     
In addition to the detailed written assessment, you will also receive a short video from either Greg or Jenny, demonstrating any key points that cannot be translated on the written assessment.
Here is an example of a Virtual Coaching we have done, showing the level of detail we will provide (we have blacked out the photos for confidentiality purposes):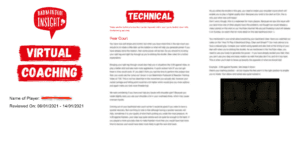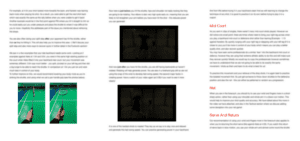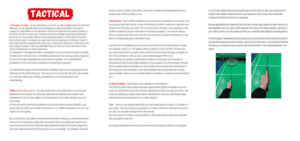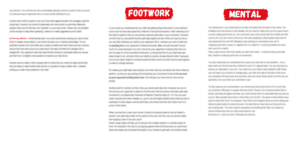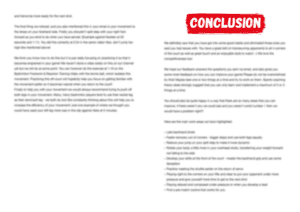 Having written AND visual feedback whilst watching your own video will really help you to understand the work areas to help you improve your game! You will keep these two forms of feedback forever, meaning you can refer back to them over time to keep reminding you of work areas and to see your progress!
We always tailor our feedback to your individual needs so make sure you are clear with what exactly you would like advice on (if you know this!). For example, one player has asked us:
"Please can you help me with my tactics during a match and how I can use my strengths more to my advantage?"
Another player wrote to us asking:
"Please could you look at my defence? Am I using the right technique and are there any routines you recommend to help me improve it further?"
What Do I Have To Do?
All you have to do is send us a 15 minute video of you playing badminton, which you can record on your mobile phone or any other recording device. It can be easily sent on your mobile, tablet or computer. The video can be any of the following options:
Playing a match

Doing training routines

Practising the technique of an isolated shot

Or a combination of the above! 
Once again, if there is something specific that you want to learn or improve then make sure you let us know!
Who Can Purchase The Virtual Coaching?
Our Virtual Coaching is hugely beneficial for players of all standards – beginners and social players, club and regional players, and advanced and international players.
A Virtual Coaching session is £60.00. It takes us on average 8 – 10 hours to analyse and write each Virtual Coaching session due to the volume and detail of feedback that we are providing. We therefore believe this price is very fair, and works out as great value as our in-person coaching is £30 an hour!
It can be purchased for yourself, or would be a great gift to another badminton lover! It is suitable for any age – for children (being purchased by their parents), teenagers and adults!
Please contact us directly if you wish to purchase this as a gift.
Here is what a few of our

 customers had to say…
"Dear Greg & Jenny,
Your great YouTube channel led me to your Virtual Coaching offer. I thought, why not use the time with no badminton in Denmark to have you analyse some video clips of me playing.
I've now studied your written and video feedback carefully, and I am truly overwhelmed with what you have discovered. You have given impressively useful feedback on both technical issues on racket skills and footwork as well as on tactical and mental issues. You even spotted how to read what stroke one of my frequent opponents is about to make when he is on the backline. That observation alone will win matches for me 🙂
I can't wait to get back on court and try out all your suggestions on how to improve my game."
Tonny Pedersen – A Danish club player aged 59
"Ok so I have just gone through your written summary as well as the video and all I can say is INCREDIBLE!!!! 
Thank you both so much for all of the hard work you put into this, I really appreciate it and I can't wait to start implementing your feedback!! Pure gold !!!
I will 100% be doing this again in a couple of months!"
Daniel Pfohl – Player at Buffalo Badminton Club in New York (USA) 
"Wow! Thank you so much for the close analysis of my game and the detailed observations/ recommendations. It certainly went beyond my expectations. I didn't even realise some of the things I was doing that you pointed out!
I will definitely be trying out some new things you suggested in my training and game. Your feedback will be an important reference point for me going forward.
Once again, thank you so much for your professionalism and for taking such care in providing this feedback. 🙏"
John – Competitive regional player from Australia 
Further Details
Once you have completed the purchase, we will send you an email with some simple instructions on how to film your video and also how to send it to us. It's a very easy process, so don't worry if you are not a 'tech wizard'!
Once we have received your video we will send the feedback within 21 days, however we will always aim for a quicker turnaround time than this. The quality of the feedback we give is very important to us, and we often have a busy schedule training, competing and coaching so this longer timescale may occasionally be needed to ensure that you get the best possible feedback!
The Virtual Coaching can be purchased worldwide.
If you have any queries, please get in touch with us at: contact@badminton-insight.com
We look forward to helping you gain a different insight into your badminton, and we hope you are as excited as we are to take part in this new method of badminton coaching!