badminton-specific weights programmes
Weight training is a key component of every badminton player's training, helping to improve on-court strength, endurance, speed and explosive power!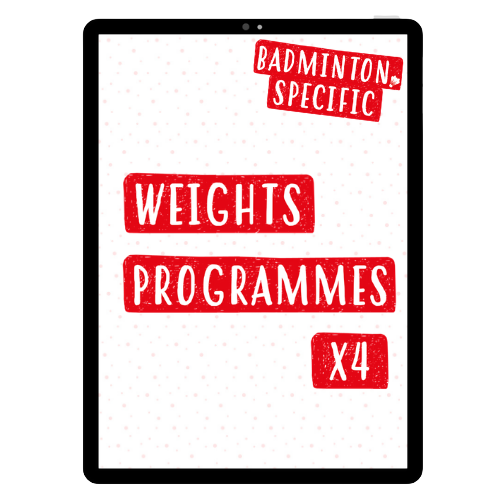 8 Weights Programmes + 2 Circuits
Designed Specifically For
Badminton Players
8 weights programmes, EACH DESIGNED TO IMPROVE A SPECIFIC AREA OF YOUR BADMINTON:
3 sections in each programme:
Buy the programmes separately for £9.99 each, or together (all 8 weights programmes & 2 circuits) for just £17.99!
1-4
Weights Programmes 1-4
5-10
Weights Programmes 5-8 & 2 Circuits
All 10
8 Weights Programmes & 2 Circuits
Frequently Asked Questions
What Our Customers Say...
I wish I came across this weights program before now! This is a must have for people that are looking for ways to improve their game. I have been using it for few weeks and I can feel the difference both on and off court. The programs are specifically designed for badminton players so I know every single workout will benefit my game and not just me wasting my time in the gym. The programs are very easy to follow and I genuinely look forward to my weights session now. These weights programs do save me time and money and it is by far one of my best purchases ever.
I've been using the Weights Programmes for a while now and I have seen significant improvements on court in the way I move and the power and explosion of my legs and also my shots! They are a really good asset for improving your on-court game and general strength!
I found you guys from your YouTube Channel and it's amazing how much time and effort you put into everything you do. The programs are clear and well-thought out, and they have helped me save hours of wandering around the gym not knowing what to do. Now I can work out in the gym with peace of mind that this is what the top professionals are doing and with programs that are uniquely made to help my badminton - and get my 'badminton body'!! Thank you Badminton Insight!