Multifeed is a key component of every badminton player's training, helping to improve on-court fitness and speed, shot quality and consistency. These programmes are perfect for both players and coaches.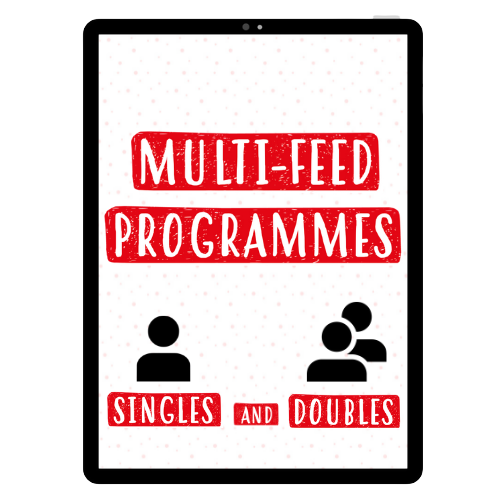 Buy the programmes separately for £7.99 each, or together (all 27 programmes) for just £13.99!
16
Doubles Only Programmes
11
Singles Only Programmes
All 27
Singles And Doubles Programmes
2
Taster Pack - 1 Singles & 1 Doubles
Frequently Asked Questions
What Our Customers Say...
I've never seen so much badminton information written down! I have also never done proper training before but after watching your channel I thought I could benefit from it, and I have!! I know you explain how multi-feed isn't a 'quick fix' but these programmes have really helped me to improve my speed around the court as well as my stamina! I get my wife to feed me a programme once a week and it is a GREAT workout - she enjoys the fact she is making me work hard and is surprisingly accurate with the feeding. We took your advice and threw the shuttle on 1 or 2 of the routines as it was hard to do otherwise just because she doesn't play much but it worked well. Thanks again, really useful 🙂
Wow, these multi feed programmes are amazing. I was not expecting so much detail. Now I can just turn up to training with my friends and we have a full session planned. There are so many different exercises that I had not heard of before. Amazing. Thank you Badminton Insight.